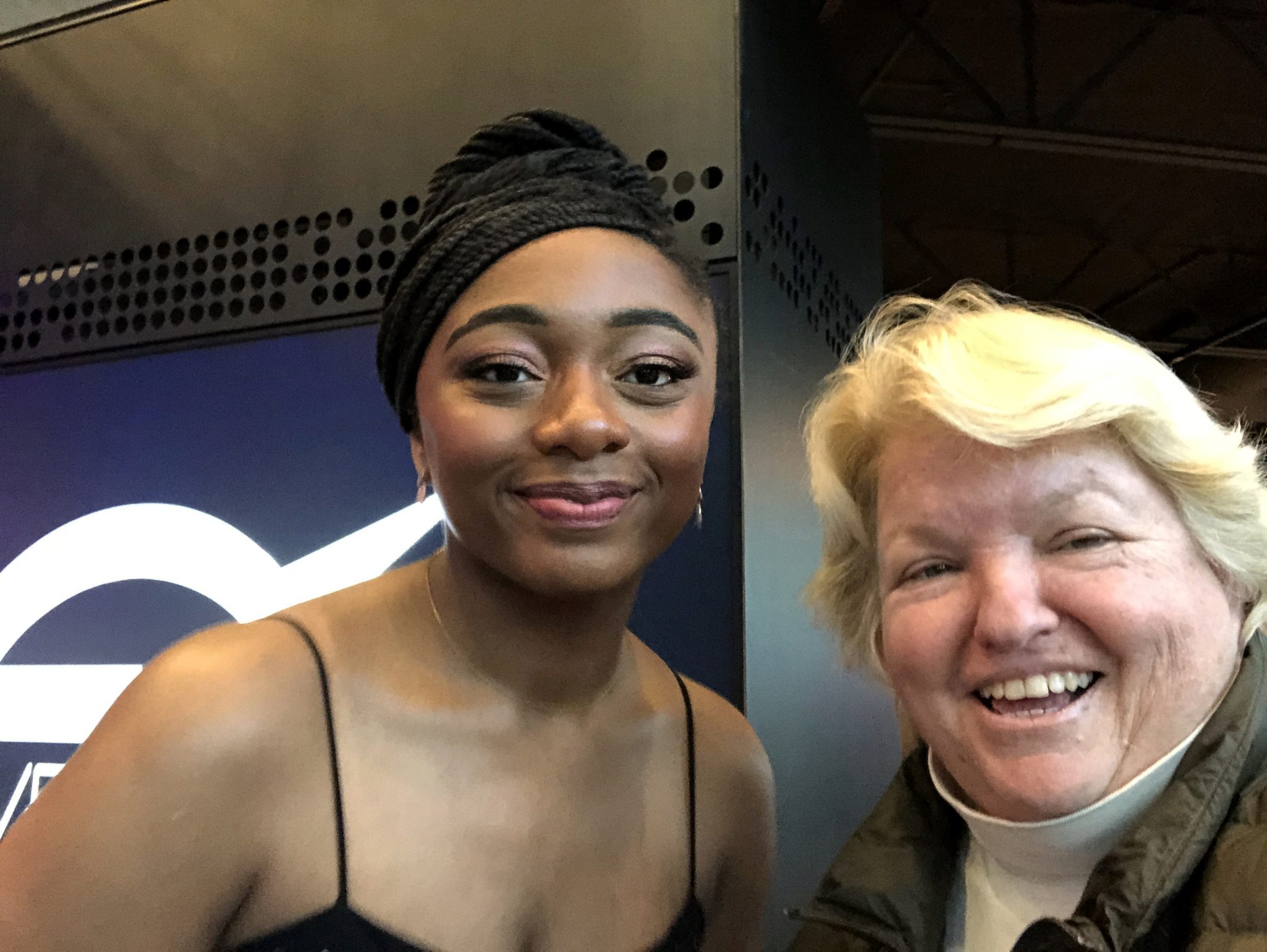 Broadview at Purchase College Future Resident Meets Grammy Winner
Connection with Purchase College already paying off for Broadview Charter Member
When Prospective Broadview at Purchase resident Michelle Wiznitzer put a deposit down on a residence at the new university-based retirement community she knew she'd be connecting with the college, but she didn't imagine it would be so soon.
Wiznitzer, who plans to move to Broadview when it opens in the fall, was thrilled when she recently got to meet Purchase College graduate and Grammy winner Samara Joy at a concert in Arizona. Samara Joy, a 2021 alumna of Purchase's Jazz Studies program, received two Grammys including Best New Artist. 
"During the break she came out and met with everyone'' said Wiznitzer. "I was able to get her to sign a copy of her Grammy winning CD "Linger On" and pose for a pic. I told her that I was moving into that new community in Purchase that they were building on the campus.''
These are just the kind of connections Wiznitzer said she was hoping to make at Broadview. 
In fact, Wiznitzer said she was so taken with Samara Joy that she's going to see her concert again in March when she's in Seattle.
Broadview at Purchase College is a university-based retirement community on the campus of the State University of New York in Westchester that champions intergenerational connections and lifelong learning. In a unique concept, its Founders Learning Commons building is designed for students and charter members to learn together.
With 95 percent of units already reserved, Broadview at Purchase has 300 Charter Members like Wiznitzer who are already forming a sense of community through virtual programming and meet-ups.  It opens in the fall.
Broadview is being co-developed by Senior Care Development, LLC and LCS Development, LLC, and will be operated by Life Care Services®. LCS has over 50 years of senior living and housing experience and manages over 140 senior living communities nationwide. LCS has been rated best in customer satisfaction with independent senior living communities 4 years in a row by J.D. Power.  For more information, visit Broadview online. 
About Broadview
Broadview Senior Living is a university-based retirement community located on the Purchase College, SUNY campus in Purchase, New York, a part of Westchester County. The design for Broadview hinges on lifelong learning and intergenerational friendships, as residents will be able to audit courses and attend performances, lectures, events, and more, all on the Purchase College campus. Broadview will comprise 220 living apartments and villas for seniors ages 62 and older, as well as offer assisted living apartments and memory care suites on-site. Broadview is currently under construction and is scheduled to open in Fall 2023. For more information, visit https://broadviewseniorliving.org/.
About Purchase College, SUNY
Purchase College, part of the State University of New York (SUNY) network of 64 universities and colleges, was founded in 1967 by Governor Nelson Rockefeller. His aspiration for Purchase was to create a dynamic campus that combined conservatory training in the visual and performing arts with programs in the liberal arts and sciences, in order to inspire an appreciation for both intellectual and artistic talents in all students. Today, Purchase College, SUNY is a community of students, faculty, and friends where open-minded engagement with the creative process leads to a lifetime of intellectual growth and professional opportunity. For more information about the College, visit www.purchase.edu.
About Life Care Services®
Life Care Services, an LCS Company, has the experience required to boost community financial performance, increase occupancy, and develop new lifestyle and health initiatives to meet consumer expectations and help communities thrive. With a long track record of excellence, Life Care Services sets itself apart from other senior living companies with its unique, comprehensive portfolio of support services. Life Care Services is the nation's second-largest operator of senior living communities and has expertise in the management of both Life Plan and Rental communities. From independent living to assisted living, skilled nursing to memory care, at Life Care Services, Experience Is Everything. For more information, visit lifecareservicesLCS.com.