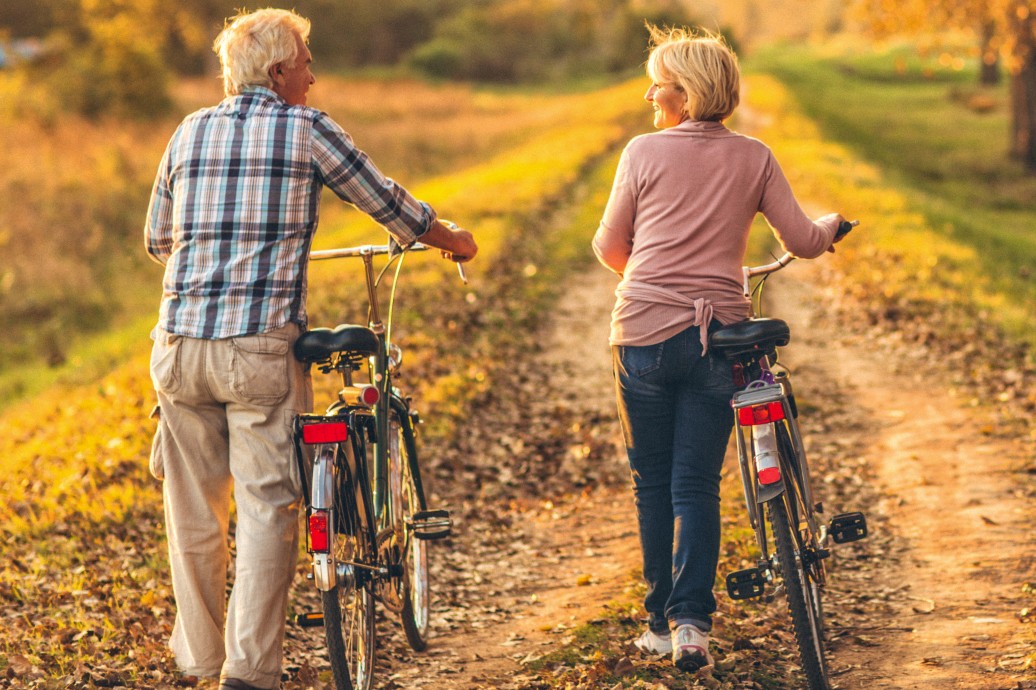 Fun Fall Activities for Seniors
Mmm … that crisp fall air. As the leaves change and the cooler weather arrives, there's much to enjoy in Westchester County. While there won't be as many in-person events this year due to social distancing, there are still fun indoor and outdoor fall activities for seniors to enjoy.
Explore what's online
Broadview's future neighbor, Purchase College, is geared up for the academic year. Be sure to check out the myriad virtual art, culture and learning activities to participate in:
Enjoy the outdoors
Breathe the fresh air, admire the beautiful foliage and listen to the crunch of leaves as you walk. Stroll a block or two in the neighborhood or walk through a local park.  If you prefer a leisurely drive, take a cruise in the countryside, and describe the passing scenery. Want to stay close to home? Set up comfortable seating to relax on the front or back porch as weather permits.
For a nighttime outdoor experience, there's The Great Jack O'Lantern Blaze, an outdoor walk-through experience featuring thousands of hand-carved pumpkins at Van Cortlandt Manor in Croton-on-Hudson.
Apple picking in Westchester County is a quintessential fall family activity. Visit a local farm and pick your own apples for a homemade pie or try fresh baked goods and ciders. You can also pick your own pumpkins and gourds, or late-season pears and vegetables. Here's a list of local apple farms and pumpkin patches where you'll find reservation information, and instructions on handwashing and social distancing measures.
A long-held New York tradition, the Macy's Thanksgiving Day Parade®, will be television-only in 2020. For an outdoor parade experience, the New Rochelle Thanksgiving Day Parade, Westchester County's largest parade, hosts over 1,000 participants and will be happening live.  
Cozy up indoors
When the weather gets cooler and it's cozier indoors, here are some fun  indoor activities for all ages.
Coloring
Coloring is a simple activity that offers many of the benefits of arts and crafts for seniors, including stress-busting abilities similar to meditation. Grandparents spending time with younger grandchildren can always count on a coloring book to while away the hours. Look for fall-themed coloring pages online to print out, and stock up on colored pencils and pens, especially those in autumn shades of red, brown, orange and gold.
Crafts
Creating fall decorations for the home is a nice way to mark the change of seasons. There are many benefits of arts and crafts for seniors. The feeling of being happily engaged in a satisfying activity reduces anxiety, depression and boredom. And with grandchildren by their side, it becomes a meaningful intergenerational memory. Keep activities simple, with no right or wrong way to do them.Try making a leaf garland using fallen leaves collected during a stroll. Allow older grandchildren to attach them to a length of rustic twine with a dab of hot glue. Or cut out an assortment of leaf shapes on colored paper and let youngsters add a hole with a hole punch. They can then tie each leaf onto a ribbon to make a swag. Here are more ideas for fall garlands you can make in a few hours. Bringing the spicy, woody scent of autumn indoors, making a pomander ball counts among unique fall activities for seniors. A pomander ball is usually an orange studded with cloves and hung as part of a garland or placed in a holiday centerpiece. This is an activity that the grandkids will love – simply push cloves into ripe oranges and set them aside to dry out. You'll find full instructions here.
Puzzles
Choose fall-themed puzzles for some family time. They're great for problem-solving and critical thinking. Remember to choose an age-appropriate puzzle. Ages 4-5 can handle puzzles of up to 50 pieces, ages 6 -7 up to 120 pieces, and for ages 8-9 and up, puzzles of between 250 and 500 pieces should be fine. You could also print a copy of a favorite family photo or a scene that's meaningful. Laminate the photo and cut it into four or more puzzle-piece shaped pieces to make a personalized puzzle. Some photo websites provide a service that creates a puzzle out of a photograph you upload.
Homemade treats.
Baking, mixing and assembling treats are a fun activity for all. Look for recipes online that involve just a few steps and that are ready in an hour or less. Try baked apples with a streusel topping, pumpkin-pie spiced sugar cookies or a no-bake pumpkin cheesecake. You'll find many free recipes online.
Spring, summer, fall and winter, Broadview plans to offer an independent senior living lifestyle that will keep older adults of all ages energized and engaged  — no matter the weather. From superb wellness programs to exceptional dining and hospitality, to a remarkable array of lifelong learning opportunities, this will be Westchester senior living at its best. Contact us to learn more.