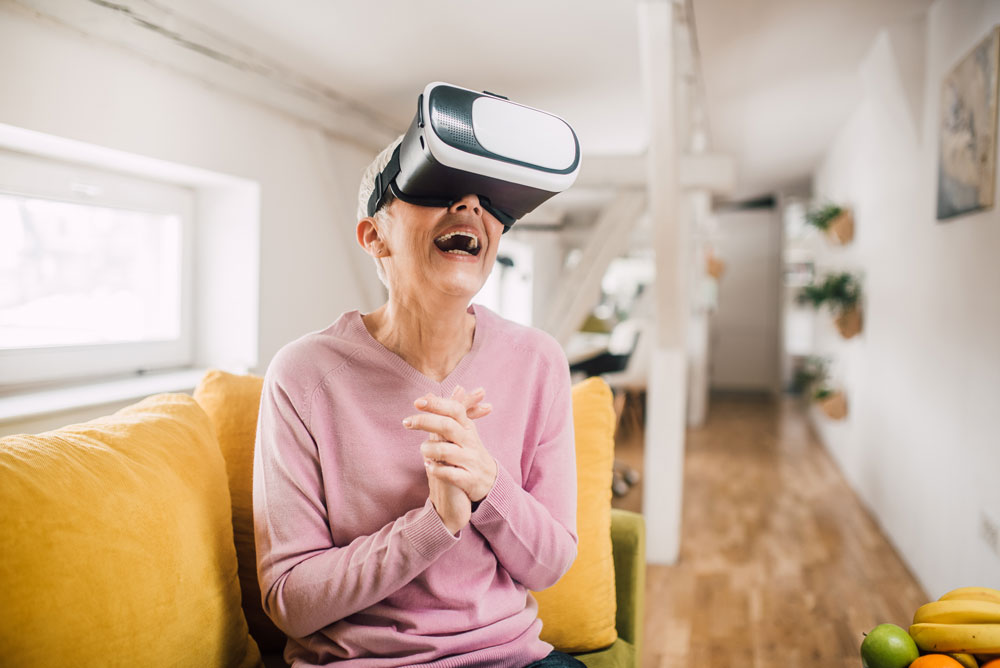 Technology Tips and Benefits for Older Adults
Tech Tips for Seniors
Technology has dramatically changed the way we get information, connect with others and spend our free time. And while it used to be that seniors and technology didn't mix, this is no longer the case. According to the Pew Research Center, the number of Americans ages 65 and older who use the internet jumped from 14% in 2000 to 73% in 2019. Over half (53%) own a smartphone. But while more and more older adults make technology part of their daily lives, even the most adventurous may find it daunting to keep pace with its changes. Here are some new benefits of technology for seniors, plus a checklist of our top five tips to help you stay tech savvy.
Video Chat Apps
Among the best benefits of technology for seniors is the ability to easily connect with family members and friends who live in other places or who can't visit in person. Popular services such as Skype, Zoom, FaceTime and Google Duo provide video chat options where you can see and talk with the people you care about in real time. These platforms are simple to use once you set them up on your phone or tablet, and best of all, they're free.
Virtual Reality
Virtual reality provides an interactive, three-dimensional experience that makes someone feel like they're "right there." It's a life-enhancing technology for seniors, reducing feelings of isolation and improving their mental health. Through virtual reality, older adults can feel what it likes to ride a roller coaster, tour a future home, visit a museum or revisit a familiar time in the past. AARP's Innovation Labs has designed Alcove, a free virtual reality app for the Oculus headset that brings seniors and their families together in a virtual house.
Fitness Wearables
Fitness trackers have always been popular with athletes and are now part of the mainstream for everyday consumers. These wearable gadgets such as activity trackers and smart watches are a great way for older adults to keep track of their health and fitness goals. In an AARP study, 45% of seniors ages 50 and above said that using an activity and sleep tracker helped them be more active, sleep better and eat more healthfully.
Medical Alert Wearables
Wearable technology for seniors can benefit caregivers too. Clipped to clothing or worn as a necklace or bracelet, medical alert devices provide reassurance that in an emergency, the wearer can get help with the press of a button. Certain wearable devices allow caregivers to track location and monitor sudden motion such as a fall, and some can even be discreetly hidden as shoe insoles. If your loved one with Alzheimer's or other dementia wanders and becomes lost, these devices can help reduce a caregiver's panic and reunite you with your loved one.
Medication Apps
Staying on track with medications can be difficult if you're managing several prescriptions or over-the counter medicines every day. Used in conjunction with a pill organizer, medication reminder apps can prevent you from missing a dose, taking too much or too little, or forgetting to order refills. These apps can be downloaded to your smartphone and enable you to look up medication names, enter dosage amounts and times, and set refill alerts. Medisafe and CareZone are among the most popular and easiest to use.
5 TECH TIPS FOR SENIORS
Whether you're on the internet or your smartphone, sending emails or uploading the latest photos of the grandkids to social media, here are some tips to be more tech savvy:
Passwords: Make it a point to refresh your passwords every 90 days to prevent identity theft. A strong password is a mix of capital and lower-case letters, numbers and special characters. One way to create a password is to take a phrase you use often and substitute numbers and symbols: e.g., H@ppyB1rthd@y. Put your password reminders in a safe place.
Anti-virus software: Keep anti-virus software up to date and run it regularly to detect malware and viruses on your computer.
Smartphone: Change your settings to enlarge numbers and text to an easily readable size. Temporarily increasing the brightness of the screen also helps; however, remember to turn the brightness down when you don't need it as it will drain the battery.
Privacy: Add your contacts into your phone so you can identify the person calling you or sending you a text. If you receive a text from an unknown number, do not reply or click on any attachment, and make sure you delete it immediately.
Social media: Avoid oversharing on social media and be selective about what you post. You may be aware not to share your phone number, address or social security number, but also be cautious about disclosing details of your relationships, finances, favorite locations or medical information.
Check out the virtual reality tours of the Broadview campus. They're just one of the innovative, unexpected ways we'll bring seniors and technology together for the future. Learn how the intersection of curiosity, collaboration and creativity will come to life at Broadview. Call us today at 914-417-4201.