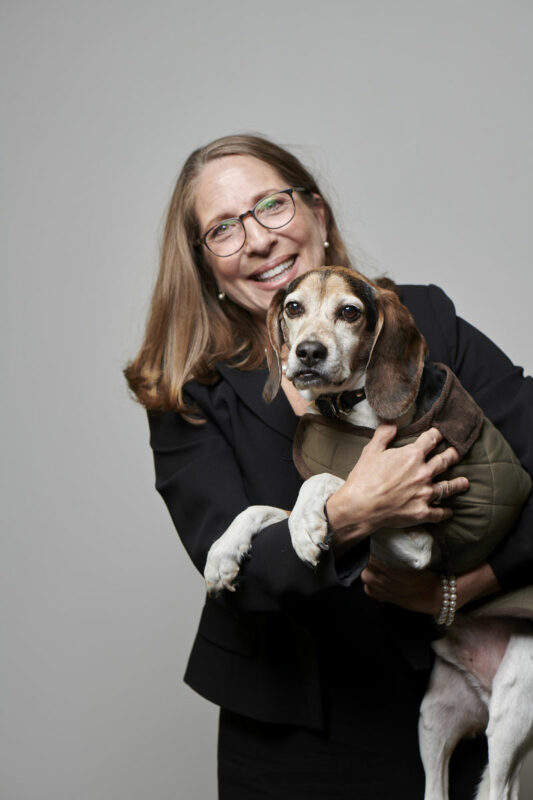 The Benefits of Pets: Furry Friends Make Us Feel Fine
The unconditional love we receive from pets is not only reassuring but is linked to many health benefits.
Cuddling with a furry pup or kitten can calm our nerves, lower our blood pressure and give us a special sense of well-being. Daily dog walks also help promote physical activity, which can keep our hearts healthier and believe it or not, according to the Mayo Clinic, can even lower our cholesterol levels.
Research has also shown that relationships with our pets provide a social and emotional bond that can reduce stress, loneliness and improve overall quality of life. 
That's one of the reasons Broadview at Purchase is a pet-friendly community. 
That's obvious if you have ever visited the Broadview information center and met Broadview Executive Director Ashley Wade's adorable 13-year-old Beagle Fred. Fred is Broadview's ambassador and a sharp dresser, who dons a new outfit for holidays and special occasions. 
"Broadview doesn't just allow pets, we encourage them,'' said Wade. "Pets are a part of our identity. Our pets say something about our preferences and personalities. They are members of our families, and we do our best to make sure they are welcome.''
Dogs will love the beautiful green spaces and leafy trails at Broadview, also in the works: a dog park, a fenced area where dogs can go off-leash.
Charter Members Jamie and Paul Rosenfeld plan on bringing their dog Philly, an Aussiepoo mix, when they move in. Philly is definitely NOT a lap dog. 
Unlike other dog-friendly retirement communities where only certain breeds or sizes are permitted, Broadview does not take a one-size-fits-all approach.
"We just want to make sure that you and your pet are happy in your new home,'' said Wade. "So we ask that people consider their ability to care for a pet and whether the type of pet they choose fits their lifestyle.'
Broadview allows a maximum of two pets and does not allow gerbils, hamsters, rabbits, rats, guinea pigs, reptiles, exotic or undomesticated animals. Pets must also be at least a year old.
If you are not a fan of pets, there are rules in place to ensure the comfort of all residents, Wade added. Wade said she reviews health records and temperament of all pets who will live at Broadview to ensure they are a good fit.
If you'd like to meet Fred, drop by our visitor center. Give us a call at 914-417-4201.