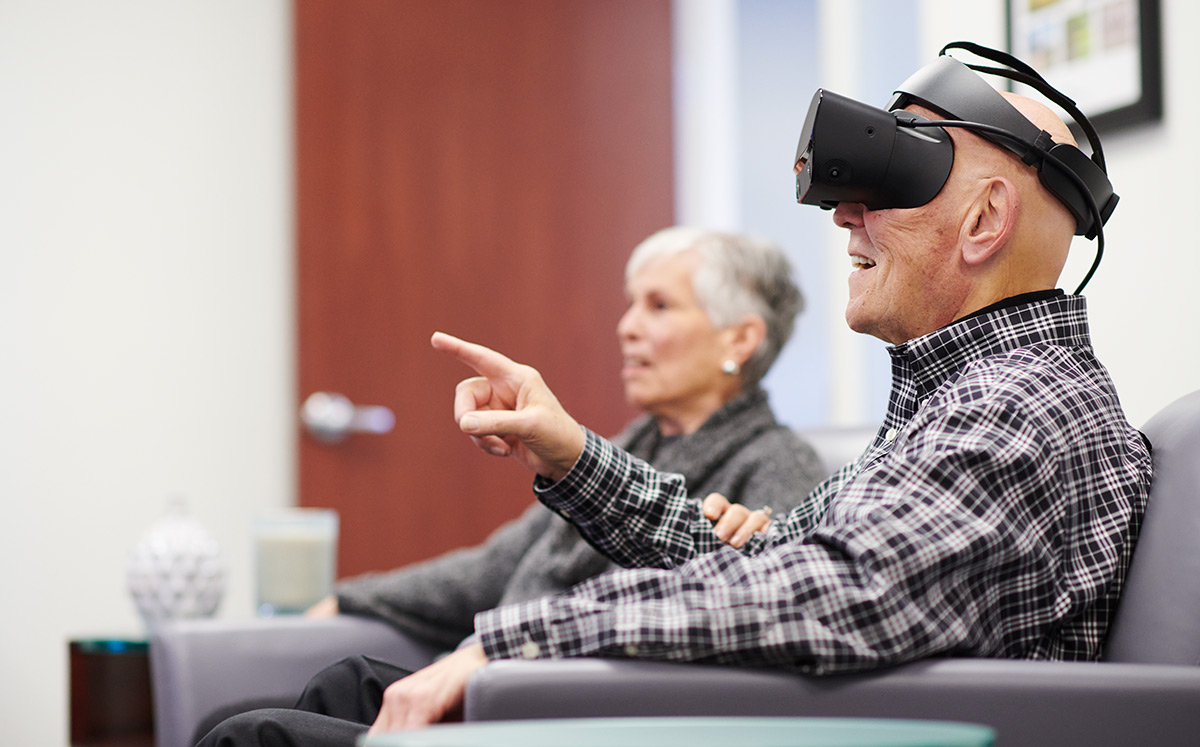 The Benefits of Virtual Reality
Guests attending the Virtual Reality Open House mid-January at the Broadview Information Center shared positive reviews. For many, it was the first time they had experienced virtual reality for seniors with Oculus technology. After an orientation and a short pause to sample gourmet refreshments, visitors tried out two separate virtual reality tours.
"This is amazing technology."

"It's so realistic."

"I can't believe they can do this."

"You really get a sense of what the exteriors and the interiors are like."
During this event, we welcomed a variety of guests, including our newest Charter Member, who immediately reserved a villa after touring it virtually. Current Charter Members attended, excited for the big reveal of their new home as they walked through their selected floor plan for the first time. More visitors are expected in the coming weeks, including depositors from London and California, and those currently wintering in Florida.
WHAT IS VIRTUAL REALITY?
Quite simply, virtual reality (VR) is a technology that allows the user to interact with a computer-simulated environment. Virtual reality is especially helpful when helping them feel like they're "in" a lifelike real or imagined scenario, with sounds and other sensory effects. Read on for a description of the experiences awaiting you at Broadview's Information Center.
THE DISCOVERY ROOM: Stand at your new front door.
Relax and prepare for a simulated tour of Broadview's buildings, grounds and green spaces. You'll feel like you're riding in a golf cart as a sales counsellor "drives" an onscreen view with a video controller. You'll see the relationship of buildings to each other and how gardens and parks unfold through the community. Birds chirp and grass rustles as you travel through the 11-acre green space. Interested in a specific location? Your guide will navigate to the doorstep or back porch, where you can take in the view from your future home.
THE VIRTUAL REALITY ROOM: A walk into your future.
After a brief orientation, you'll settle in on a sofa and don wireless Oculus technology, a virtual reality headset. As you remain seated, you'll move a handheld joystick back-and-forth and side-to-side to explore a three-dimensional simulation of Broadview.
Walk around the floor plan of your choice to see how large it feels. You'll get a physical sense of the size of the fireplace, living areas and bedrooms, see what appliances look like in the kitchen, and peek out of windows for the view
Enter the clubhouse through the lobby and gaze around at the surrounding space. Take a look at the library, fitness center and locker rooms, pool and spa, and all the wonderful common spaces available to you in this 11,000-square-foot building.
Visit The Learning Commons, the lively hub of social and lifelong learning activities at Broadview. Walk through the café and eating areas, and see how the Makerspace, gallery, and performance venues flow into this multipurpose gathering area for students and residents.
Discover how technology, intergenerational gatherings and lifelong learning will interweave at Broadview. Learn more about the lifestyle you'll lead in a university-based retirement community and take a virtual reality tour of Broadview's exteriors and interiors. Schedule your personal appointment by calling 914-417-4201.