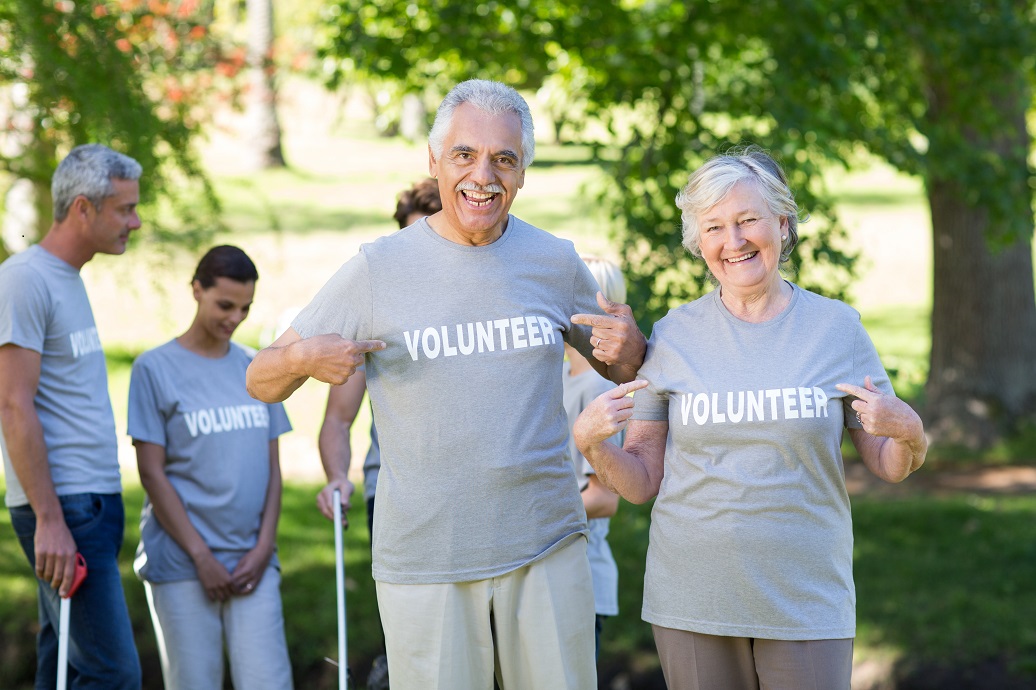 Volunteer Opportunities for Retirees: How You Can Make an Impact!
It should come as no surprise that volunteering your time to help people and organizations, especially in retirement, isn't just beneficial for the surrounding community — it's also good for your overall physical and mental health. 
According to recent studies, seniors who volunteer tend to experience less disability and often live longer than those who choose not to volunteer.
Why? Volunteering in retirement has been shown to help aging adults remain more physically active and engaged with the world around them. In fact, those who regularly volunteer have reported lower rates of depression and mortality. while enjoying increased happiness and self-esteem.
To add to these benefits, research shows that the older a person is, the greater the potential benefits of volunteering — making the simple act of giving back an essential part of staying healthy as you age.
In addition, beyond experiencing a genuine sense of purpose, seniors who volunteer create a situation in which they can make new friends, learn new skills and keep their minds sharp.1
As a Life Plan Community offering Life Care, Broadview—Senior Living at Purchase College is deeply committed to delivering consistent and compassionate care to residents who live with Alzheimer's or other forms of dementia.
Whether you're considering volunteering your time or are looking for more volunteer opportunities for retirees, keep reading and let us help you jump-start or expand your volunteerism and discover a life-changing volunteer opportunity with the Alzheimer's Association.
Are you thinking about a move to a Life Plan Community that offers a vibrant, distinguished lifestyle and helps residents grow intellectually and socially through lifelong learning and volunteer opportunities? If so, invite you to further explore Broadview and see all the ways we welcome you home.
RETIREMENT IS A PERFECT TIME TO VOLUNTEER 
Millions of seniors choose to volunteer each and every year, finding ways to contribute in their communities to help them grow stronger and more united.
Fun fact: While retirees make up only 31% of the adult U.S. population aged 25 and over, retirees account for 45% of total hours volunteered.2
During your retirement years, volunteering can be an effective way to reestablish a sense of identity within your neighborhood, as well as purpose in your own life.
For many retirees, choosing to volunteer is a way to also create deeper meaning as you age. Perhaps that's why so many seniors make time to give back as they transition into retirement. 
BENEFITS OF VOLUNTEERING IN RETIREMENT
Volunteering helps you stay mentally sharp 
Studies have shown that seniors who volunteer on a regular basis have fewer cognitive complaints and show a lower rate of mild to moderate dementia when compared with other seniors. Making the decision to spend your time constructively and learning new skills as you volunteer can promote cognitive function and mental adaptability that has genuine lasting benefits.3
Volunteering improves your physical well-being 
Volunteering is an excellent way to keep yourself active and maintain your physical health as you age. A recent study by the Centers for Disease Control and Prevention found that volunteering in retirement can actually decrease your chances of heart disease. Additionally, actively volunteering has been shown to help manage chronic health conditions more effectively than medical attention alone.3
Volunteering provides a deeper sense of purpose 
Research has shown that volunteering can help you establish a stronger sense of purpose, which, in turn, positively impacts your physical and mental health. In particular, recent studies have found that participating in community service as a senior volunteer was more strongly associated with life satisfaction than working for pay.4
HAVE YOU CONSIDERED VOLUNTEERING FOR THE ALZHEIMER'S ASSOCIATION?
When you choose  to volunteer for the Alzheimer's Association, you'll be able to use your time and talents to help make a meaningful impact in your community. Finding ways to connect with others who are as passionate about making a difference in the fight to end Alzheimer's is a great way to build a healthy social network rooted in a global cause.  As the world's largest nonprofit funder of Alzheimer's research, the Alzheimer's Association is committed to creating change and advancing research toward methods of preventing, treating and curing this terrible disease.
Today, over five million Americans are living with Alzheimer's disease, and 16 million family members and friends are providing unpaid care to those suffering from the illness.5 
Whether you're interested in advocating for research and care initiatives, getting involved at events, or supporting and educating caregivers as well as people facing Alzheimer's, you can do something to help by becoming an Alzheimer's Association volunteer.  You'll find that volunteering for the Alzheimer's Association and joining in the fight to find a cure can prove to be a rewarding and fulfilling activity in your retirement years.
DISCOVER BROADVIEW—SENIOR LIVING AT PURCHASE COLLEGE 
At Broadview, we know there's always room for learning, creativity and inspiration well into your retirement years. This mantra inspired us to create the Learning Commons, which will be a central location where students of all ages converge to share knowledge and build a multigenerational community.
We invite you to discover how independent living at Broadview in Westchester County can open a new, more liberating chapter in your life as you transition into retirement.
The villas are maintenance-free inside and out and you'll have easy access to all community amenities, making Broadview ideal for seniors who want to retire in a community that's focused on their personal well-being and aligns with their budget demands.
We recently participated in the Alzheimer's Association Walk to End Alzheimer's®. Contact us to learn more about it and other upcoming events, or if you're interested to learn more about Broadview.
Have questions? Get in touch with us today. We're excited to get to know you and are here to answer all your questions.
Resources: