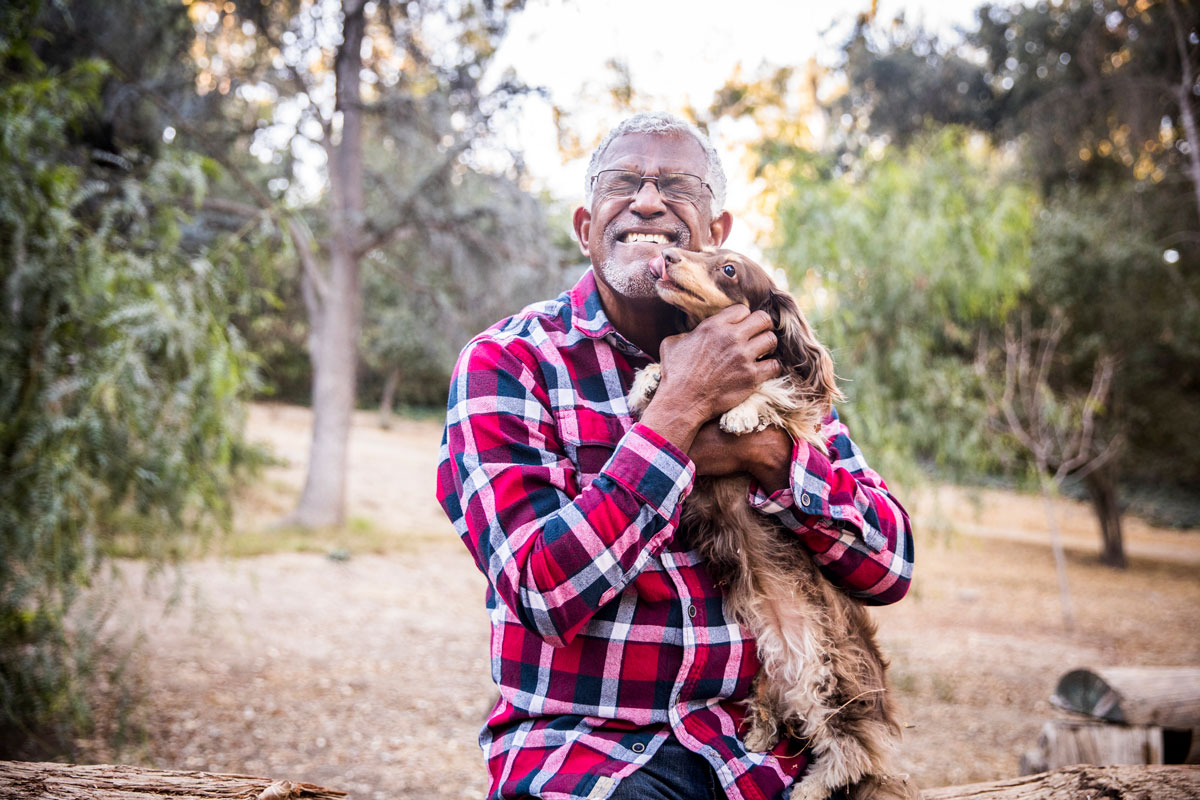 How Broadview Is a Dog Friendly Retirement Community
A Round of Appaws for Pet-Friendly Communities!
Contented dog owner? Thinking about getting a canine friend to take on walks? In a dog-friendly senior living community such as Broadview, we welcome pooches of all shapes and sizes. In fact, we welcome cats, fish, birds and other pets, including guinea pigs and rabbits. At Broadview, we believe you should be able to be yourself and express yourself as you always have, and if pet ownership is part of who you are, we recognize and support that. And there's endless evidence to show that when we lavish love and affection on animals, devoted companionship is only part of what we receive in return. Pet ownership has a wonderfully positive effect on longevity, quality of life and happiness.
Dog-Friendly Broadview
Residents who venture out for walks will find beautiful green space and leafy trails to explore as part of Broadview's dog-friendly senior living. (Also in the works: a dog park, a fenced area where dogs can go off-leash, and dog bathing stations within residential buildings.) And as Purchase College doesn't allow students to keep pets on campus, you can count on meeting students who will make a "pat stop" because they miss their dog and want to befriend yours. Students may even offer their services as dog-sitters and dog-walkers.
We're Not Dogmatic
Unlike other dog-friendly retirement communities where only certain breeds or sizes are permitted, at Broadview we prefer an individual approach. We "interview" every dog and get to know your pooch personally. As responsible pet owners ourselves, we want to ensure that every animal will live humanely within their residence and interact safely with other animals and humans in a community setting.
Good Dog? Bad Dog?
There's really no "best dog for seniors." Dogs are as individual as their owners, so there's not a formula for making a choice. Mainly, an older owner should take into account the size of residence and type of lifestyle to which they plan to add a dog. Will you go for walks once or twice a day or spend most of your time indoors? Are you able to care for and train a puppy, or would you prefer an older dog that's already socialized? Are you prepared to spend time grooming a long-haired dog or one that sheds?
In our experience, for an older adult, a small- to medium-sized dog with a calmer temperament is easier to train and handle. Here's a (by no means exhaustive) list of dog breeds that are "pup-ular" in dog-friendly retirement communities:
Beagle – Sweet-natured and energetic; high energy – does better with a couple of walks a day or a backyard for exercise. Enthusiastic hiking companion.
Bichon – Affectionate lap dog. Needs moderate exercise. Fluffy, curly fur needs regular grooming.
Chihuahua – Lively and loyal; doesn't need much exercise. Easy to carry around.
French Bulldog – Good-natured and active; needs only moderate exercise.
Greyhound – Rescued greyhounds are gentle and affectionate. They enjoy a daily walk and a run now and then, but are generally happy to be couch potatoes.
Maltese – Alert and affectionate; very small and therefore easy to handle and carry around. Long silky fur that needs regular grooming.
Poodles – All sizes from toy to standard. Loyal, smart and sociable. They need regular exercise and professional grooming due to their curly dense coat.
Pug – Gentle and affectionate. Moderately active, as long as it's not too strenuous.
Shih Tzu – Smart and spirited. A sturdy dog that's very small and easy to train. Needs daily walks and regular grooming due to its long coat.
West Highland Terrier – Intelligent and friendly. Energetic; needs a daily walk and loves
to dig.
Drop in for Coffee and a Beagle
And while we anticipate welcoming all kinds of dogs at Broadview, right now we do have a soft spot for one special dog. He's a 10-year-old beagle named Fred, who belongs to Ashley Wade, Broadview's marketing director. Fred is the official greeter at Broadview's Information Center. And he loves making new friends who will move into Broadview's pet-friendly senior living community. Come meet Fred! Call us at 914-417-4201.