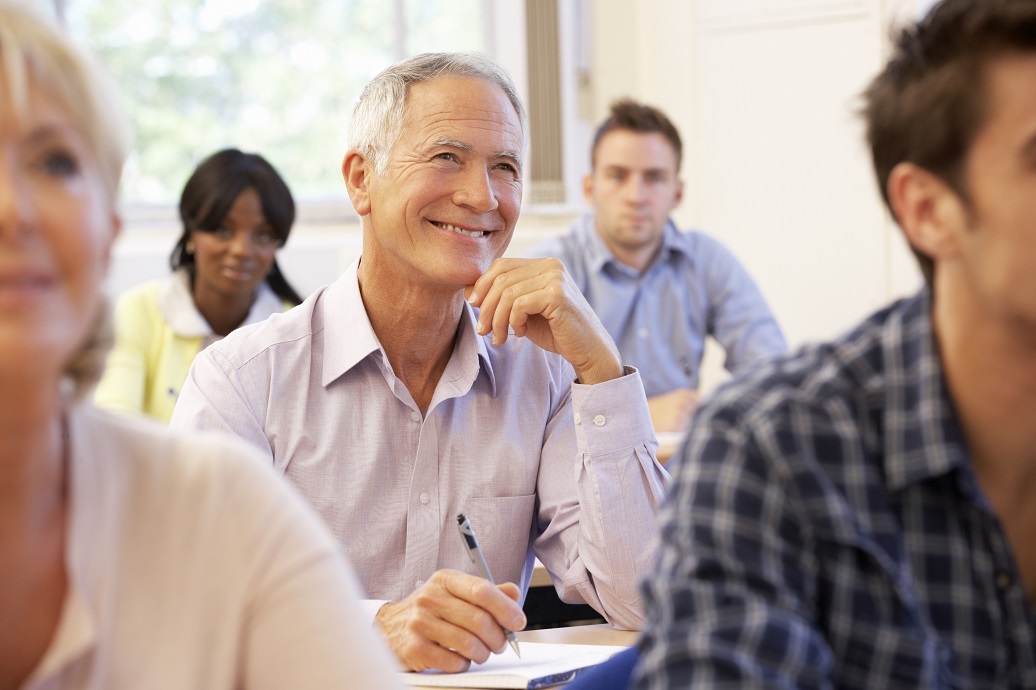 Intergenerational Learning is Part of the Lifestyle at Broadview at Purchase College
​
WHAT IS A UNIVERSITY-BASED RETIREMENT COMMUNITY?
Today's generations of older adults are highly educated; many from the "Silent Generation" attended college on the GI Bill, and nearly 60% of baby boomers have some college experience, with a third holding an undergraduate degree or higher. It's believed these seniors have an interest in "active," "intellectually stimulating" and most of all, "intergenerational" retirement environments.
Clearly our thirst for knowledge isn't slaked by age. For young and active seniors who want continuing and challenging enrichment, a traditional senior living community isn't enough. This is where a university-based retirement community is a better choice.
The term university-based retirement community (UBRC) was coined in 2004 at George Mason University. It refers to a partnership between a host university, college or other learning institution, and a senior living community. It may be on or close to the school's campus and offer a specially curated program of learning for the community's residents. Though the terms of affiliation may vary, the connection with the school offers unique opportunities for active, intellectually curious seniors.
WHAT ARE THE BENEFITS OF A UNIVERSITY-BASED RETIREMENT COMMUNITY?
The most obvious benefit is intellectual stimulation. It's been proven time and time again that keeping mentally active through lifelong learning is good for brain health. At an independent living community such as Broadview—Senior Living at Purchase College, residents can immerse themselves in an environment that's all about intellectual stimulation and growth. They may enroll in or audit classes, or even teach. They can access college amenities such as libraries and art studios, as well as attend exhibitions, performances, and cultural and sporting events.
Best of all, a university-based retirement community leads to a mindful uniting of the generations. Whether through planned events or informal interactions, the setting encourages intergenerational interaction and friendships among residents, students and faculty. (Learn how to make the most of a culture of intergenerational learning in this article.)
"SENIOR" LIVING — REDEFINED
At Broadview, an independent living community in Westchester County, NY, you'll feel like you're living on a college campus, but you won't be roughing it like a student in a dorm. Our retirement, senior living community is fully integrated within Purchase College, sharing their 500 acres of wooded parklands. Residences are designed to harmonize with the surroundings, offering an independent lifestyle with access to the highest quality of services, amenities and continuum of care.
The prospect of being steps away from the energy, excitement and educational opportunities of a major college campus appeals to many of our future residents. Keith and Claire Bronitt are among our Charter Members, a growing group of older adults who've chosen Broadview as their future home. They believe Broadview checks all the boxes when it comes to building a strong sense of community and are looking forward to making friends of similar interests, age and zest for life. They're planning to take classes and use the college library, and enjoy discounted memberships to the Performing Arts Center and the Neuberger Museum of Art.
A UNIQUE RETIREMENT COMMUNITY IN WESTCHESTER NY
The Learning Commons will be a collaborative space for art, creativity and discovery at the heart of our independent living community. It will offer a pub and dining area, classrooms, a makerspace, a dance lab, virtual reality learning lab, and more. But even before its completion, Charter Members are already meeting in its virtual counterpart. They're attending lectures, discussing books, engaging with Purchase College faculty, and getting to know one another. Join this intentional, vibrant group of people. Contact us today to learn more about Broadview and how you can become a Charter Member.