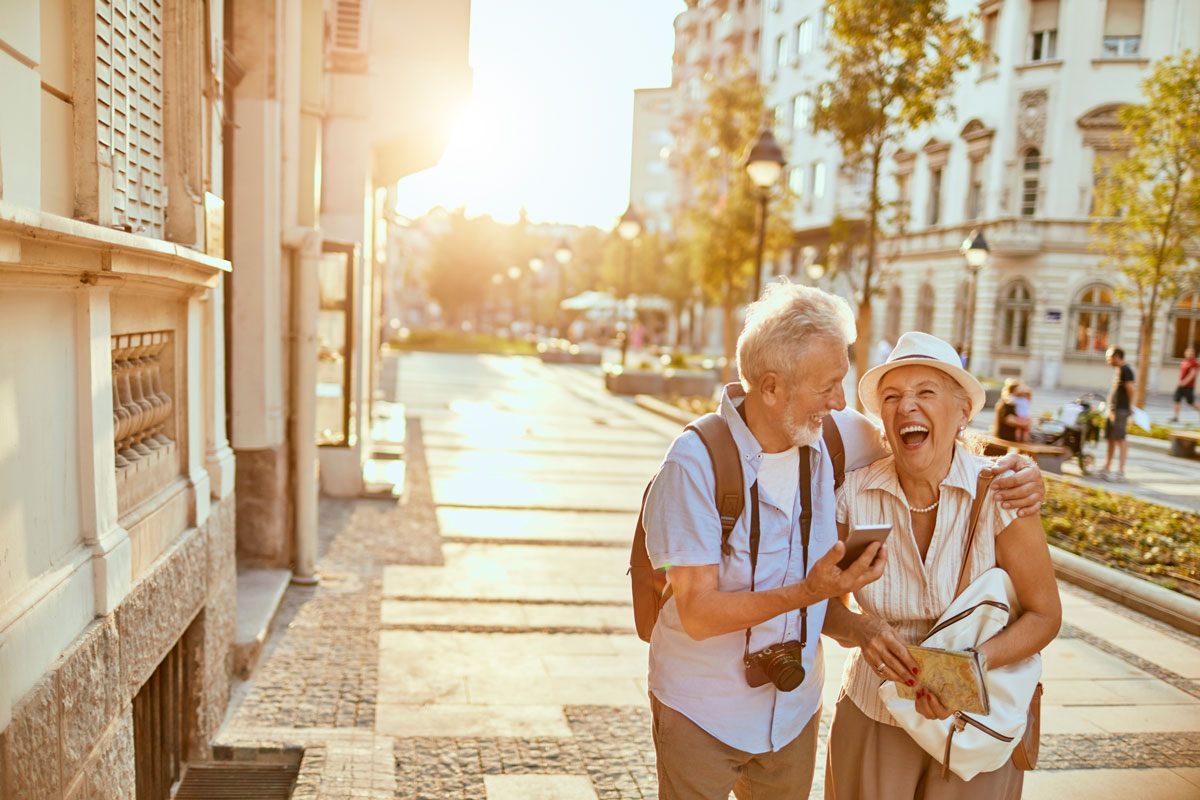 Helpful Tips for Seniors When Traveling
With retirement comes the luxury of time — leisure to reap the benefits of a lifetime's work and lean into making the most out of each day. How do you see yourself spending your retirement? With fewer constraints from work and family, you have more opportunities to do whatever you want and go wherever you wish.
Put a plan in place for your next vacation. Our travel tips for seniors include suggestions and advice that new and seasoned adventurers will find helpful. We've also listed some of our favorite destinations that are fun, accessible, and senior-friendly.
The Benefits of Travel for Seniors
Studies have found that traveling can enrich your mental, physical, spiritual and emotional health. Accordingly, you'll find the health benefits of travel include:
A decrease in stress and isolation
The ability to become more open-minded and try new things
The opportunity to get out and get active
The ability to challenge your mind and learn new things
A boost in confidence in getting out of your comfort zone
Senior-Friendly Travel Destinations
An Alaskan Cruise:
If you're wanting a unique experience that offers opportunities for exploration and relaxation, consider an Alaskan cruise. Many different cruise lines offer trips that include land excursions for the more adventurous at heart. And, if you prefer the comfort of a cozy ship, you can take in the beauty of glaciers and watch the wildlife as you dine on exquisite, chef-prepared meals.
Miami, Florida:
Another senior-friendly travel destination, Miami offers an abundance of amenities, resorts, beaches, museums and gardens to explore. If you are seeking warmer weather and sunshine, this city is absolutely hard to beat. Step into a tropical oasis and pamper yourself at one of Miami's luxurious and accommodating resorts.
Wilmington, North Carolina:
A brilliant seashore excursion with city amenities nearby makes Wilmington one of the top destinations to visit in the U.S. With three beaches, local shops and restaurants, and historic museums — this destination is perfect for senior solo travel or for an entire senior travel group.
Montreal, Quebec:
A fun senior travel destination that will appeal to all interests, Montreal is rich with charming shops, local cuisine and plenty of history. The European feel of Montreal gives visitors a sense that they've been transported "across the pond." With many senior-friendly accommodations and wheelchair-accessible attractions throughout the city, seniors will find this to be a great location.
Nevis, Caribbean:
With many islands to explore, the Caribbean is a great place to find your tropical paradise. Much quieter than city destinations, Nevis will let you escape the hustle and bustle of a given day — allowing you to be present in the lush beauty and uncrowded beaches.
Travel Safety Tips for Seniors
Take care of the details, and the fun and fulfillment will come naturally. We've provided some helpful travel tips for seniors to add to your checklist.
Make sure your insurance covers medical fees when you are traveling. If they don't, be sure to look into purchasing health insurance for travel.
Keep a list of your current medications in case they get lost or you might need to get them refilled.
Carry a contact card with you with an emergency contact, the information for your physician and any other pertinent information.
Choose destinations that are easy to navigate and make sure to leave plenty of time between connecting flights to give yourself a moment to get something to eat, take a bathroom break and stretch.
Travel Tips for the Seasoned Traveler
If you're a frequent adventure-seeker, we've provided a couple of additional tips:
Consider looking at your routes and transportation options ahead of time and conduct research on how much the rates are. This will help you negotiate with cab drivers if needed, as well as show that you know where you're going.
Deciding when to go is another key element. Going during March-May or September-October can not only help you save on fares but will also help you avoid crowds and the heat of the summer.
Many different hotels and resorts offer a variety of amenities. Ask as many questions as you need to ensure that the location, accommodations and layouts meet your needs and expectations.
When planning different activities during your visit, consider scheduling tours and shopping in the morning or later in the day to avoid the traffic.
If you want to learn more about how to make the most out of your retirement, check out some of our other blogs or feel free to visit. We'd love to support you in what makes you happiest.